Small Kitchen Design Ideas
By Fable Staff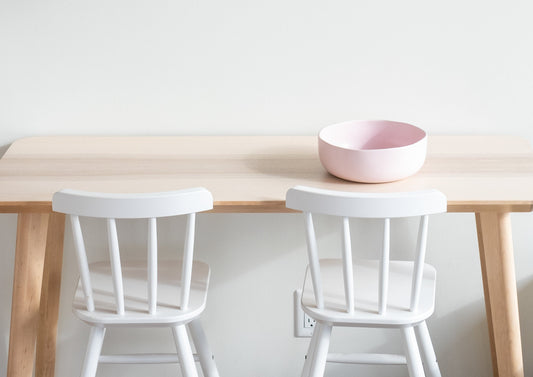 Trying to show off your cooking skills in a small, tight kitchen is harder than you'd expect. Whether it is only you cooking, or you have a sous chef lending a hand, bumping into each other—or the kitchen counter—only creates frustration. If you have kids, a small kitchen feels even smaller. By the time you sit down for dinner to unwind, you feel more wound up than you did at work!
We want you to enjoy the time you spend in the kitchen. Cooking up great meals and memories is exactly what you deserve. Don't let your tiny kitchen stand in your way of creating beautiful moments and enjoying amazing meals.
First off, we have some good and bad news about your small kitchen. The bad news is there is not much we can do to make your kitchen physically bigger (we checked—the technology isn't there yet). The good news is that some kitchen design ideas can make it feel like your kitchen's much larger. Continuing on this positive note, let's look at what exactly you can change up to make meal prepping something that saves you from a time crunch later in your week—but doesn't leave you crunched for space in your kitchen.
Declutter
Before we introduce anything new to your kitchen space, it is time to do some spring cleaning. Removing unnecessary items from your kitchen will make room you never knew you had. This newfound space can be used as both a cooking space and as extra storage space. To create that space, try and relocate items that do not belong. This means relocating your car keys, along with change that does not fit into your wallet, to the front hall—or maybe even your purse or briefcase. Wherever it is, just don't let it be your countertop!
Alternatively, get rid of items entirely. If you cannot remember the last time you used a certain plate, that is most likely a tell-tale sign that it is not needed anymore. We encourage you not to go down the road of "what ifs'' here, because as much as you may like to think, "What if the Queen stops by for tea?" it is most likely not going to happen (unless you are Kate Middleton). Once you have decided on the items that you want to discard, don't just throw them out if they still have some life left in them. Consider donating your lightly used items to someone who may benefit from them.
Decluttering also means going through every drawer and shelf and reorganizing items to maximize your available real estate. It is finally time to clean out that messy flatware drawer of yours; those crumbs have been building up for quite some time now.
Now that you have removed all of the excesses, you can introduce some new items. Try to find Dinner Plates, Serving Bowls, and individual bowls that double as ways to serve more than just one meal. By using versatile products, you can decrease the clutter in your kitchen while starting to create a great collection of kitchen items.
Specifically, try your best to declutter your countertop so that you have maximum workspace. Relocate appliances and leave your counters empty. For example, consider making an appliance garage in one of your cupboards. Relocating things under your kitchen island is also a great way to free up counter space while utilizing the floor space that you have.
You can also make use of any available wall space for additional kitchen storage. Try removing that bulky knife block while you are at it, and opt for a magnetic knife strip. You could even get crafty with the space saving and create a pantry pegboard to hang up spatulas, spoons, and whisks, or incorporate a pot rack.
Layout
If you live in an apartment and your kitchen layout is a bit more permanent than you would like, try moving around what you can, such as a countertop appliance or two. You'll be pleasantly surprised what a difference this can make. On the other hand, if you're a homeowner and your kitchen layout is not permanent, it is probably time for some changes. While your space might be small, you can make layout modifications that contribute to a larger-feeling kitchen.
For one, leave your window open to let in gorgeous natural light. A darker kitchen will feel much smaller than its well-light counterparts. Also, remember to declutter any messy windowsills if you have not already.
If you have a separate dining room that you can eat in, that's great! But if you're trying to use your kitchen space as a place to eat as well as cook, a massive dining room table is only going to get in the way. Consider incorporating a breakfast nook and bar stools as a space-saving measure.
Make use of any space you have, and make sure you use it all in a practical way. Try storing the items you do not use often higher up, and keeping frequently used items closer to eye level. If your cabinetry does not go all the way to the ceiling, try to stage pretty vases on top of them. Not only is this a great way to store them when they are not holding flowers, but it is also an eclectic way to decorate your kitchen.
Another great way to change up the layout of your kitchen with a basic remodel is with open shelving or floating shelves. Just make sure that you do not overload the shelf or appear cluttered, because that could overwhelm your space. Ensure that when you are using open shelving that you are staging the items that sit on the shelf. Our Mugs, Dinner Plates, and Pasta Bowls would look picture perfect on an open shelf.
Color Scheme
The next makeover idea that makes a huge difference in a compact kitchen is to pick a color scheme. This will ground your kitchen and ensure that nothing is too overwhelming or feels out of place. One thing that is important to keep in mind when you select a color scheme is your appliances and your kitchen backsplash, if you have one. If your appliances are all white, your color scheme options are flexible. You could stick with the all-white kitchen interior design vibe, or you could introduce other hues—whatever you see fit.
If your appliances are stainless steel, black, or even a mix of different materials, you must be mindful of what color scheme you choose. You want to make sure that you lighten the small space if it has darker appliances, so you should opt for a light color scheme if this is the case in your little kitchen.
When selecting a color scheme, the options are endless. It is probably a good idea to work with what you have and add on as needed. A great way to get started is to think about complementary colors and what works well together. To really create the feel of a modern kitchen, you can introduce different shades of the two colors you have selected. A perfect example of this would be an orange and blue kitchen; the youthful colors always brighten up space while making it extremely trendy and aesthetically pleasing. Mixing and matching ceramic dinnerware is another great option. Our glazes are specifically designed to look great together, making it easy to bring out your inner interior designer. (Try it out with our Dining Essentials set).
By using a similar color scheme through your whole room, you will generate a cohesive flow that makes it fun to be in your kitchen. By using a dynamic color scheme, people will be more focused on your interior decorating skills rather than the small size of your kitchen.
Rugs, Towels, & Brushes
Based on the color scheme you select for your kitchen, you can pick out a nice rug or floor runner for your small kitchen. This will make your space feel cozier and will keep the floor looking extremely clean at all times.
When selecting a rug or floor runner we recommend purchasing one that is machine washable. In doing so, you save yourself from needing to purchase a new item in the near future. You will also save quite a bit of time that you can dedicate to spending time with family, rather than hand washing the carpet when the time comes.
Also, following the color scheme you select, you can pick out some nice tea towels to level up in your kitchen game. Tea towels are an eco-friendly option for paper towels. They will also save you from spending money on paper towels every time you are at the grocery store. Tea towels add a mature feel to your kitchen and are perfect for drying dishes if you don't feel like running the dishwasher.
A fun and eco-friendly piece of functional decor for your small kitchen is this Tawashi Brush. This scrubber brush not only helps you wash your pots and pans after dinner but can do double-duty and help keep your root vegetables clean. The brush bristles are biodegradable, the construction is highly durable, and it can be left to air dry after you do the dishes. The brush is a great example of smaller items that are great for small kitchens. It's also extremely versatile, so it eliminates other now unnecessary items. Not to be harsh or anything.
Lighten Up
Another small kitchen design idea that makes a big difference is to lighten up your space in more than one way. Not only is lightening up your kitchen a great way to make it feel bigger, but it is also a great way to lighten and improve your overall mood.
First, think about paint color. When thinking about your color scheme, try your best to stay away from dark colors as they end up cramping your kitchen. Instead, keep things cozy with warmer colors which will help your small kitchen provide a sense of welcomeness to yourself and your guests. You can also incorporate lighter colors throughout—like with white cabinets, for instance—in order to open up the space.
As you play with the colors of your walls even more, you can introduce an accent wall. Although, try to stick to your color scheme when doing this as it will ensure cohesion and unity across your small kitchen, making it just that much more inviting. An accent wall is a subtle way to add a hint of style, but wouldn't dare take away from more important things, such as what you are cooking for brunch on Sunday morning.
An equally great way to add light to your small kitchen, making it feel airier and larger in size, is by adding light strips below your kitchen cabinet doors. These are a perfect way to bring in some extra light if your windows are slacking a little bit. You can also incorporate a pendant light to add an extra glow without taking up space.
Our final recommendation for lightening up your small kitchen is by introducing an optical illusion. Hanging mirrors on walls makes your space feel bigger, brighter, and lighter. Bonus? If you select the right frames, they can be some amazing and easy wall decor.
Keep It Fresh
Keeping it fresh is a great way to make a big difference in your small kitchen. When we say keep it fresh, we mean a few things; however, if you have another interpretation, feel free to allow your creativity to run wild.
For starters, make sure that your kitchen looks fresh by keeping it clean at most times. However, don't be too harsh on yourself; we've all left a cereal bowl or two in the sink for the ambiguous "later." If you think that you already do a fairly good job of keeping your dishes in check, another great way to keep things clean is to wash your countertops. You would be surprised by the difference it can make.
A fun way to keep things fresh in your small kitchen is to keep your counters empty, other than a bowl of fruit. We strongly encourage you to incorporate fruit that you enjoy as a healthy snack to help with those busy days you catch yourself running out the door in a hurry. If you can, try and pick fruits that elevate the color scheme you have selected for your kitchen. Some classics to get you started are apples, bananas, oranges, lemons, and limes.
Don't be afraid to try out your green thumb by incorporating some greenery into your kitchen, making it feel extremely fresh. While your average household plants are a great way to keep things fresh, we still want to maximize your space. For this reason, we recommend potting a herb such as basil. This will still give off that popular earthy vibe, but will also taste fresh on that bowl of pasta you're planning on having for dinner tomorrow night.
Hardware
Focusing on the hardware of your cupboards is also a small kitchen design that makes a huge difference. Even though you fell in love with it at the store, the hardware on your cupboards can take up space in a smaller-sized kitchen.
If possible, try to eliminate the cupboard hardware completely. This may be easier for the upper cabinets rather than the lower ones. By eliminating the hardware in your kitchen, your cupboards will blend into the walls more and create an illusion of more space while still giving you the functionality that you need. It will also enable you to draw attention to things other than the demanding hardware in your kitchen that are much more deserving of your attention and conversation, such as those homemade cookies.
If removing the hardware completely is not an option, try to find some small minimalistic hardware that can easily be installed. Stay away from hardware that is too flashy and takes up too much visual space when you stand back and look at your kitchen as a whole. It is also important to consider your appliances' color when purchasing new hardware, as you should ensure that they do not clash with one another.
Another fun decorating idea is to match your Flatware Set or Serving Spoons to your kitchen hardware. This can help with the flow of the space if it is close to or connected to the area in which you usually enjoy your meals with family. Using similar golds or silvers is a perfect way to elevate your party planning skills that your guests will take note of when they first walk into your dining area.
Make the Most of Your Space & Be the Host of Your Dreams
While we all dream of a larger kitchen such as the ones typically seen on your favorite home show, the reality is we should be making the most of what we have. By accepting and enjoying the space we have, we can come to truly appreciate the time spent there.
As you can see, a small kitchen can still boast big style! Just because your kitchen size is limited does not mean your decorating opportunities are—you just have to release the interior designer inside you. These small changes for your small kitchen will, of course, amaze all of your friends the next time they come over for dinner and drinks. By incorporating some of these small kitchen design ideas into your own home, you will make a huge difference to the space that you cook in. Let's put the pep back in your meal prep!
Sources
Open Shelving - 8 Dos and Don'ts | Bobvila
Color wheel - color theory and calculator | Canva