Why Home Decor is Self Care
By Fable Staff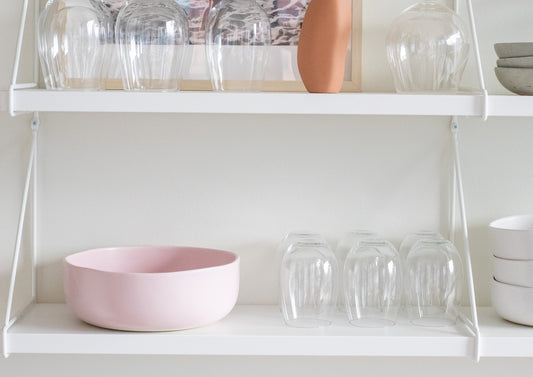 Our homes are where we spend a lot of time, especially lately. It's a place to work, a place to lay your head at night—and a lot of in-between time, too.
Taking care of your home goes hand-in-hand with taking care of yourself. When designing your space, it's key to keep your well-being in mind. You don't want something too nice that you feel you can't get comfortable.
At Fable, we believe in timeless design and creating things that stand the test of time. If you are in a space that suits you, it can do wonders for your state of mind. We can all implement some helpful self-care tips, so here are some to remember.
Decorate Your Space to Match Your Style
When it comes to designing your home, what you do to make your space your own should be a reflection of your own taste. If you wake up each morning loving your space, it can boost your mood and productivity.
On the flip side, if you just throw it together, you'll end up with random furniture pieces, fabrics that clash, and a hodge-podge of decor. However, with a little forethought, you can transform your home, old or new.
When decorating a space, don't rush into a bunch of decisions at once just to get it done. Even though you need a couch, you don't want to panic pick one that looks like it belongs in your Grandma's basement, especially when it comes to large pieces of furniture, like a couch, because you design the rest of the room around it.
Measure Your Space
Before you go to pick a couch or major piece of furniture, you should measure your space. It's always nice to match the scale of furniture with the size of the room that it's going in. A giant bed frame, or couch, can overpower a smaller space.
Write down the length and width of each room you are purchasing furniture for. Remember to take into consideration obstructions that could possibly get in the way, like columns or windows. You also want to measure your doorways so you know that you can get your new purchase into the room.
Design a Floor Plan
Once you know the measurements of your space, you can use them to design a floor plan.
You can either draw the floor plan the traditional way, with paper and pencil and ruler or use computer drafting software to create a digital map. A quick sketch is always better than nothing at all, so don't let your lack of art skills get in the way of this step.
Once you have the outline using your measurements, you can start experimenting with pieces of furniture. The furniture needs to be scaled to size to adequately get an idea of how it will fit in the space.
Pick Your Design Aesthetic
It can be challenging to pick a design aesthetic, but there is no wrong answer. You can make your space traditional, modern, or formal. It can be warm and cozy, or visually cool.
You have to discern the type of place you will enjoy spending time in. You can also take into consideration what you will be doing in that space. If it is a living room, you may want to have a different vibe than you do in your home office.
You want to feel comfortable, rejuvenated, and inspired by your space. When you think about it, creating a home where you can recharge is the ultimate form of self-care.
Simplify Cleaning
Once you have designed your home, you can sit back and relax—an integral part of self-care. The one aspect you shouldn't relax too much on, however, is keeping your space clean and tidy.
If you come home to a pile of laundry, dirty dishes, and a dusty bookshelf, you may not be able to relax fully. However, if you feel the need to clean when your body is asking to slow down, you could implement some helpful design features. For instance, you can find a pretty laundry hamper big enough to hold multiple loads, so you don't end up with piles of clothes on the floor.
When it is time to clean, find ways to simplify the process. For example, keep only a few decorative pieces on your shelves, so you don't have to spend time removing a lot of little pieces just to dust. Get into the habit of doing small tasks daily that make a big difference, such as making your bed as soon as you roll out of it in the morning.
When it comes to dishes, try only to purchase pieces that can go in the dishwasher and aren't handwash-only. If you can place them directly in the dishwasher instead of in the sink, there is less of a chance that they will pile up. At Fable, all of our tableware is dishwasher safe.
Another helpful tip is to consider what you dread cleaning the most, and do that area first when you have the most energy. If you get the hard part out the way, the rest won't seem so bad.
Clutter May Affect Your Brain
A messy space can make some people feel stressed, anxious, and depressed. It can also affect your ability to focus since our brains like order.
It has been shown that a cluttered space can actually drain your energy and negatively affect your overall mood and self-image. Some research also suggests that your physical environments significantly influence your cognition, emotions, and behaviors, including your relationships with others.
While cluttered desks and countertops and bursting closets may seem harmless, they can be harmful to your mental health. Research suggests that extreme disorganization may affect your brain by draining your cognitive resources and hindering your ability to focus. Cognitive overload can reduce our working memory as well. By clearing the clutter from your space and work environment, your productivity may well improve.
There's no time like the present to declutter and simplify your space. Try only to keep what is necessary and get rid of things you are no longer using. You may be surprised how fast you can fill a bin with items you don't want. You can donate things like clothes, books, and decor items. Don't try to do it all at once. Start with one closet or one small space at a time.
Smart Self Care
Spending the time to create a thoughtfully designed space can do wonders for your well-being. By keeping your home tidy and decluttering, you can have a better state of mind and have higher productivity.
At Fable, we want to bring joy to every table and make life a little easier. Our pieces are meant to last, and our timeless designs will look beautiful in any space today—and in ten years from now.
Sources:
How to Decorate Your Home - Real Estate Guides | New York Times
What does clutter do to your brain and body? | RACGP
Interactions of top-down and bottom-up mechanisms in human visual cortex | PubMed