What's a Cake Plate, Anyway?
By Fable Staff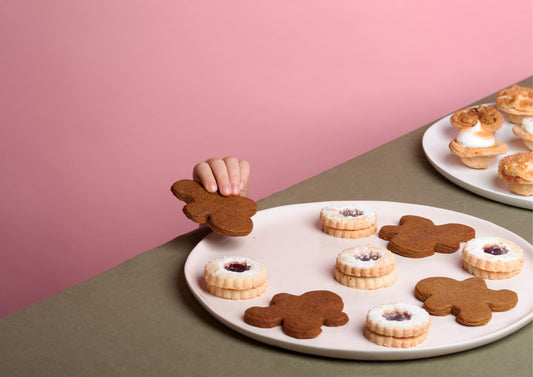 Cake plates are the perfect excuse to celebrate something, even if it is just surviving a long day of work.

A cake plate is like the youngest child of the cake stand. Just as classy, but more on the smaller and understated side. A cake stand is a singular plate that is attached to a frame, lifting the cake off of the table. On the other hand, a cake plate sits on its own without any help and rests on your table like an art piece. This form of dessert presentation is a beautiful yet simple way to elevate the cake you share with your loved ones.

A cake plate is a perfect way to present any cake, whether it be homemade or store-bought. A cake plate allows store-bought cakes to shed their unattractive plastic wrapping and elevates even the most humble homemade cake to look like it's from a Food Network show.

A cake plate is a fantastic way to present your dessert to your guests (or to just you and your Instagram followers). Remember, there's no reason to only pull the cake plate out of your cabinets for a full-fledged gala. The cake plate can add a touch of class and whimsy for any occasion, be it a black-tie affair or a pajama party with your best friends.

A big thing to consider when picking out a cake plate is the size. Try and pick a cake plate that is a bit larger than the cake itself. Cake plates are versatile, and so you should try to find one that can be used for all occasions in the near and far future.

Just Desserts

Once you have your hands on a perfect cake plate, we know you'll find ways to work it with everyday desserts. And cake plates are a great way to show off your everyday desserts, even if they are not cake. This slightly elevated perch is the ultimate way to spice up your dinner presentation at the end of a long day.

If you don't have a cake plate (yet), or if you baked too many delicious treats, place them on a classic Serving Platter. You can even put timeless dinnerware on a cake plate for an extra touch of class.

Storing a cake after you've enjoyed a slice can be a bit difficult, as there are only a few great ways to keep it tasting fresh. The good news is you can use your cake plate as a base and flip a large Serving Bowl over the top to save your cake from going stale overnight. The dome shape of this bowl is great for protecting your cake. It's definitely more reliable than toothpicks holding up saran wrap, and it'll protect your amazing icing job. The next day, when you want to have a piece of cake for breakfast, you can serve it up on a beautiful Dinnerware Set so your cake always travels in style.

Happy Birthdays

Birthdays are great occasions that call for cake plates. Cake plates are a way to keep things simple and draw attention to the birthday guest of honor. They also look adorable sitting out on a table for your guests to admire before you get to the cake part of the celebration.

A great suggestion for selecting a cake plate for a birthday is to match it to your decor. Try and pick a cake plate that elevates the theme and color scheme of your party. For example, your cake plate could match the color of your flowers or the color of your balloons. (Basically, make it Pinterest-worthy.)

Cake plates are a great option for not only birthday cake, but cupcakes too. By plating your cupcakes on a cake plate, you give off an illusion of a regular cake. You will also get extra gold stars for the presentation as it will look extremely put together. Probably the only irritating thing about cupcakes, besides never having enough, is transporting them! Solve this problem easily by arranging them on a cake plate.

A cake plate isn't just the belle of the ball; a cake plate is also party security. A cake plate protects your cake at all costs and ensures that nobody bumps into it and tips it over as they may with a cake stand. For your next birthday, try enjoying your cake off your stunning cake plate with elegant Flatware.

Weddings: A Love Story

Another great occasion that calls for cake plates is weddings or vow renewals. Cake plates show off your wedding cake elegantly and beautifully.

By using cake plates at your wedding instead of a cake stand, you can stage other things on plates as well. Using similar plates for different desserts conveys a sense of cohesion and makes your guests aware of just how much time and effort you put into planning the decor of your wedding.

A great advantage to using a cake plate at your wedding is that it creates a dramatic size illusion for your cake. Using a thicker, larger plate can make your cake appear bigger and better when your guests stop to admire it. Cake plates are perfect for making your wedding cake look that much more extravagant. Adding a tall cake topper will also provide your cake with an extra few inches in height. Love is definitely magic, but so are the powers of a cake plate!

Even though their presence is presents enough, some generous guests are bound to bring you gifts. Add a Serving Platter to your wedding registry (it acts as the perfect cake plate, trust us), and it instantly becomes a gift to be handed down through the ages. Other practical items to add are other great additions to your kitchen. Dishes and flatware are wonderful items to add to your registry as they will help you enjoy future meals and celebrations with that special someone.

Anniversaries: A Plate for the Date

Anniversaries are yet another important life event that calls for cake plates. Go the extra mile for your significant other and present your anniversary cake on a cake plate rather than just slicing and serving in your kitchen.

Cake plates are extremely versatile and, therefore, great for all different types of cake. This means that you can make sure that the cake you choose to serve is one of your loved one's favorites.

A cake plate is a perfect way to add a personal touch to your celebration. If you have a dessert other than a cake, there are still many ways to incorporate a cake plate into your evening. Using your cake plate as a candle stand, or a beautiful plate to put flowers on, is extra romantic.

Sunday Brunch

Sunday brunch, or brunch in general, can use a helping hand from a cake plate. While you might not be serving cake at 11 a.m. (though we wouldn't judge), these versatile plates can double as another beautiful way to present your food.

Whether you're treating yourself or a loved one to Sunday brunch, or inviting over a group of guests, cake plates are a great way to up your presentation game with ease. Try staging your scones or flaky baked goods on your cake plate. Stacking them atop one another is a great way to make sure there is enough to go around for all of your guests.

If you are serving brunch buffet-style, you could use a cake plate to put out cutlery and napkins for your guests to use. It is also a great resource upon which to rest your serving utensils when doing things buffet-style. The best part is, most cake plates allow for easy clean-up as they are machine washable. This means you do not need to dread cleaning up once all of your guests leave.

If you are having brunch with just your immediate family or even yourself, you can also use your cake plate as a tray to set your maple syrup on, or even the milk and sugar for your coffee. When it comes down to it, there is nothing the cake plate can't accomplish.

Tea Time

Tea time is another great moment in which a cake plate is perfectly suited. Whether you are serving only drinks or light refreshments, a cake plate is perfect for tea time.

While you can serve petit fours or finger sandwiches on a cake plate, you can also serve your small snacks on it as well. Try serving fruit on cake plates as a way to spice up your presentation. You can even match the napkins to your cake plate to create a wonderfully cohesive experience for your guests.

It can even be used for a coffee or tea station. Dust off that antique teapot your great grandmother left you and make it center stage of your whole gathering! Stage your milk, sugar, honey, and stir sticks on a cake plate to make sure that everything is easily accessible for your guests.

Flowers

Believe it or not, a cake plate is a perfect place to set your flower vase on. When having an event outside and using a cake plate, you can bring the beauty of the outdoors into your living room with a beautiful vase of seasonal blooms.

You can even elevate your presentation of your flowers that sit nicely on your cake plate by surrounding them with greenery that is of a different height. Another option would be to add candles!

Cake plates are also great not just flowers, but also plants. When it comes to placing a plant on a cake plate, this is a great way to offer your table protection from any water. This is an easy and elegant way to protect your table and up your presentation game. If you choose a cake plate with an earthy tone, it will blend perfectly with your flowers or plants.

These Plates Take the Cake

Cake plates are a great way to show your love for the people that mean the most to you. They allow us to share joyous memories over good food and even better company. A cake plate is more than just a way to serve cake to your friends and family. It is a way to show your appreciation to your loved ones and create life-long friendships.

Keep your cake plate in great shape by showing it some love with this Tawashi Brush. By showing it some extra love, it will last longer, just like the memories made over it.

Given the versatility of a cake plate, there is flexibility in where you can find your favorite. We recommend trying to find the right cake plate for you, preferably one that is sustainably crafted! There is so much joy in serving sweets on a cake plate, and so there should be joy in what it is made of as well.

We believe in stories worth celebrating and want to help you make sure that you are only focused on making memories rather than stressing over the presentation of your meals. No matter the event, we have complete confidence that you are ready to elevate your presentation game with a helping hand from Fable.


Sources:

20 DIY Birthday Party Decoration Ideas - Cute Homemade Birthday Party Decor | Country Living
11 Types of Cakes to Satisfy Your Sweet Tooth | Epicurious
The Best Way to Store Your Cake | Southern Living