Serving Bowl 101: Bowls for Every Occasion
By Fable Staff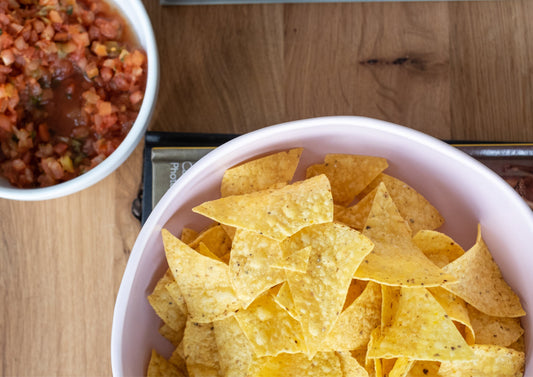 There's one thing we can all agree on: food served in the right bowls just tastes better. There is nothing worse than seeing a beautifully prepared meal sitting in an old plastic bowl that has seen better days. By committing to quality serving bowls and dishware, you can start making memories of your meals—both on and off the plate.

Inviting your friends over for a few afternoon drinks, to have dinner, or to watch a big game comes with many responsibilities. While paper plates and plastic cutlery are the easiest way to go, you might want to think again. You're all grown up now, which means it's time to get rid of one-time-use items and opt for something a little more mature.

There's no denying that we once enjoyed the themed paper plates and bowls our parents bought for our childhood birthday parties, whether they boasted your favorite animals or television show characters. But that doesn't mean you can't move on to bigger and better dishware when you're having people over. In fact, it's a surprisingly easy way to up the wow factor of any get-together that you're hosting.

What to Think About When Selecting Your Serving Bowls
There are a few major qualities to keep in mind when searching for the best serving bowls for having company over. Seriously, more goes into your dinnerware than you think.

The first thing to think about is presentation. You want to make sure that whatever you serve your food on is truly going to elevate the experience for your guests. To do that, you have to match your dishes with the vibe you are going for or the event you are celebrating.

For something more casual like a backyard barbecue, you will want a serving bowl with earthy undertones and a really solid construction, so you don't have to worry about it breaking outside. On the other hand, for something more formal like a holiday, you may be interested in something classy that reminds you of the elegant family gatherings that your parents used to host—think metallics and delicate china. The look that you're going for with your dishware is all going to depend on the event.

You can also choose tableware that's going to work for any and all occasions that you're hosting—you just have to know where to look. High-quality sturdy stoneware in beautiful soft colors will take you from Christmas to a last-minute get-together on the patio with ease, and that's what Fable is all about.

This leads us to the discussion of numbers. The number of friends you are having over is bound to influence the quantity of serving bowls you will need. Nobody wants to fight ten other people for those last few chips at the bottom of the singular chip bowl you put out. Consider how many people you are inviting and plan accordingly, so that everyone can eat chips and dip (or fruit salad, or actual salad, or anything else that you're serving).

Different Bowls for Different Courses
When you're having friends over, it should be a non-negotiable that you're going to be offering them something to eat or drink. After all, that's what being a good host is all about. But once you decide what you're serving, how are you going to decide what kind of bowls you need?

Luckily, the best serving bowls are versatile, though it's still worth considering all of your options and stocking up on serving supplies. That way, your friends will know you're someone who can throw a fantastic party whenever the need arises! At Fable, we don't think there is such a thing as being over-prepared for when your friends come over. Going that extra mile for your guests is what makes you stand out above everyone else, and it's sure to secure your hosting rights for the next wine night.

By serving your fare in the best serving bowls, it will taste just that much better. Whatever you decide to cook up, we can guarantee that your friends will be jealous of your hosting skills.

Everything You Need to Serve Snacks
Snacks are pretty informal, so you don't need to pull out all the bells and whistles (but you can if you want to). Using a few large Serving Bowls is the perfect way to contribute to the cozy and casual atmosphere you're generating.

When it comes to snacks, "The bigger, the better" mantra truly applies here. There really is no such thing as too many snacks. While some of your favorite snacks might be potato chips, chocolate, and crackers, other people may gravitate toward veggies and dip. As the consummate host, you need to be prepared for the snacking tastes of all of your guests.

By scattering snack bowls around your space, you can encourage your guests to move around and mingle, rather than congregating over the snack table. Numerous large serving bowls help create a welcoming home environment that encourages your friends to kick back and relax while enjoying their favorite snacks.

We recommend either keeping it simple and using serving bowls that match, such as four of these Speckled White Serving Bowls, or playing matchmaker and using different colored bowls that still coordinate, such as two of the Midnight Blue Serving Bowls and two of the Blush Pink. Either way, you will be prepared to leave everyone's taste buds happy and satisfied.

Appetizers: The Pre-Dinner Feast
While the main course usually gets all the attention, the appetizers are the unsung heroes of any event. Whether you're serving game day favorites like wings and nachos, or you're adding a bit of spice with homemade pita bread and hummus, you need something to hold your delicious appetizers. Grab a large Serving Bowl or Serving Platter for the main part of the dish, and then pair it with matching, smaller snack holders like the Everything Bowls for the accompanying dips and sauces. This layered effect adds a level of sophistication that will leave your friends thinking you really have gone that extra mile for them.

Of course, while an app like fries works perfectly fine in a bowl, something like nachos really requires a flatter surface. For this reason, we recommend a Serving Platter (or two) for any of those appetizers that really need more space—think charcuterie boards, flatbreads, and everything your taste buds are craving.

Choose a neutral color for your Serving Platter that allows for your food to be the main attraction. If you want to spice things up, add in some fun cocktail napkins with your neutral-colored bowl. You could even line your Serving Bowl with a cloth napkin to add some extra color. This is a great way to convey a different theme at every event while using the same serving bowls every time—how's that for thinking ahead?

The Main Course: It's What We're All Here For
Now for the main event: the main course is the primary dish of your evening that really needs to stand out, and it's where you really want to take your hosting skills to the max. Whether you have spent hours cooking your meal or just a few minutes on your phone ordering something (that you may or may not be passing off as homemade), you'll need some large serving bowls to really show off your skills.

Once you have your dish all plated up, it's time to turn your attention to the individual plates that you'll be using. If you're serving the meal family-style, Dinner Plates and Salad Plates that match your Serving Bowls are a great way to pull the entire table together. Doing this means that everything will look classy, even if you just yanked your dishes out of the cupboard.

You can even go the extra mile and use high-quality matching Flatware Sets that really brings you up from an eight to a ten for the perfect meal. Rather than using mix-and-match forks and knives and scrambling to find ones that match, you can go into the night with complete confidence, knowing that your table presentation is exactly what you want it to be.

Dessert: It's the Best Part
Whether you've handcrafted a gorgeous strawberry pavlova or you're just planning to pull out a carton of ice cream, you still need to serve your dessert in a way that does that sweet deliciousness justice.

Using a beautiful serving bowl allows you to make any store-bought dessert look good and ensures that your night continues in the right direction, and the right plate will elevate any handmade creations even further, too.

If you have spent hours handcrafting a delightful dessert, the best serving bowl to show off your creation to your friends is one that sits nicely in the background while allowing your creation to shine. A Dove Gray Plate is sure to make your dessert pop and give it the credit that it rightfully deserves.

If you're just scooping out some ice cream, go for roomy Cereal Bowls—after all, you can never have too much ice cream.

A Great Evening With Friends Starts With the Right Bowls
The right bowls can take your night from an impromptu hangout to an epic evening, so it's more important than ever to consider where you're getting your tableware. That starts with considering the impacts that your purchases have, which is why we make our products sustainable. Our products are sustainably crafted, organically shaped, and hand-finished, bringing a unique feeling to the already wonderful atmosphere of your home while also supporting the planet. We also believe in full transparency, which is why our pricing model is an open book.

Starting to put together a collection of the best serving bowls is a great way to make your mark as the best host. Using versatile serving bowls is a great place to start as you can use them for various foods and occasions.

The next time you have friends over, rather than stressing about your food presentation, you can dedicate your time to other things—like being the perfect host.



Sources

Manage 20+ Common Dietary Restrictions for Events | Social Tables
Food allergy | NHS

What is Being Sustainable? | Green Living Mag