Free Shipping Over $250
Dishwasher Safe
30 Day Trial
Description
From charcuterie to the main course, this is your right-hand set. Use the Little Bowls for snacks and garnishes, or set them directly on the Oval Serving Platter to house dips and spreads.
Each piece is organically shaped and one-of-a-kind
Hand-finished in Portugal
Comes with The Oval Serving Platter and set of 4 Little Bowls
Stoneware contains natural flecks that come to the surface during firing and may show through lighter glazes. Slight variations may occur.
What's included
The Oval Serving Platter and The Little Bowls
Care
Our ceramics are durable and easy to care for.
Dishwasher, microwave, and oven safe up to 450ºF
All semi-matte ceramics are susceptible to superficial marks from your flatware. They can be easily removed with a scouring powder (like Bar Keepers Friend) and our Tawashi Brush
Can't make it into our stores?
Don't worry—a Virtual Appointment is the next best thing.
Toronto — West Queen West
Location
878 Queen Street West
Toronto ON M6J 1G3
Canada
Hours
Monday-Sunday: 10am-7pm
Vancouver — South Granville
Location
2871 Granville Street
Vancouver BC V6H 3J4
Canada
Hours
Monday-Sunday: 10am-6pm
Sustainably crafted.
At our zero-waste ceramics facility in Portugal, each piece is crafted by artisans using a blend of recycled and locally sourced clay from just a few miles up the road.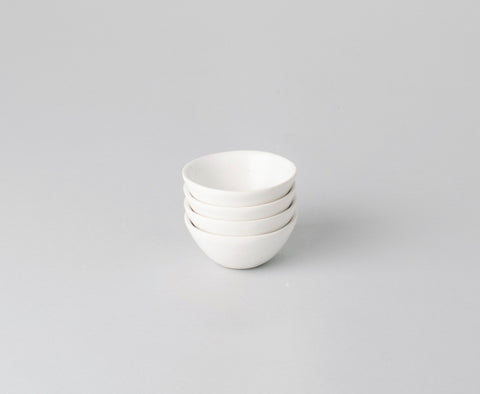 The Details
Included with this set
The Oval Serving Platter
The Little Bowls
A better way to serve. With its long and lean shape, this oval dish perfects any presentation without taking up too much space—and doubles as a decorative tray for the coffee table or credenza. Comes in 1 piece.
Materials
Locally sourced and recycled clay
Made in Portugal
Size
15 in. length
8.25 in. width
0.75 in. height
1.75 lb each
Care
Dishwasher, microwave, and oven safe up to 450ºF
Spices by the stove, dipping sauce on the table, jewelry on the dresser—despite being small, these bite-sized bowls do it all. Plus, they're versatile, stackable, and oh-so-easy to store. Comes in a set of 4.
Materials
Locally sourced and recycled clay
Made in Portugal
Size
3.5 in. diameter
1.5 in. height
0.24 lbs each
Holds 4 oz
Care
Dishwasher, microwave, and oven safe up to 450ºF
The Oval Serving Platter
A better way to serve. With its long and lean shape, this oval dish perfects any presentation without taking up too much space—and doubles as a decorative tray for the coffee table or credenza. Comes in 1 piece
Materials
Locally sourced and recycled clay
Made in Portugal
Size
15 in. length
8.25 in. width
0.75 in. height
1.75 lb each
Care
Dishwasher, microwave, and oven safe up to 450ºF
The Little Bowls
Spices by the stove, dipping sauce on the table, jewelry on the dresser—despite being small, these bite-sized bowls do it all. Plus, they're versatile, stackable, and oh-so-easy to store. Comes in a set of 4
Materials
Locally sourced and recycled clay
Made in Portugal
Size
3.5 in. diameter
1.5 in. height
0.24 lbs each
Holds 4 oz
Care
Dishwasher, microwave, and oven safe up to 450ºF
What People Are Saying
Reviewing

The Little Bowls

Little Bowls

I bought a few of these because I thought they were so cute, but I wasn't sure what I would do with them. To my surprise, I use them all the time for sauces, dressing, small sides, etc. and now I'm going to order more!

Reviewing

The Little Bowls

Just perfect!

The Little Bowls are the perfect size for my kitchen. And I love how they nestle into my hands. Fable is the best!

Katherine L.

Verified Buyer

Reviewing

The Oval Serving Platter

Beautiful

Makes the food pop with its simple elegance, and love the weight to it!

Alexandria L.

Verified Buyer

Reviewing

The Little Bowls

Snacks, sauces, garnish

These little bowls are just enough and just what I needed.

Philippe M.

Verified Buyer

Reviewing

The Little Bowls

the perfect little bowl!

stylish and great quality
Reviews Loaded
Reviews Added