Together with Friends: Fiona Morrison
By Natalie Gitt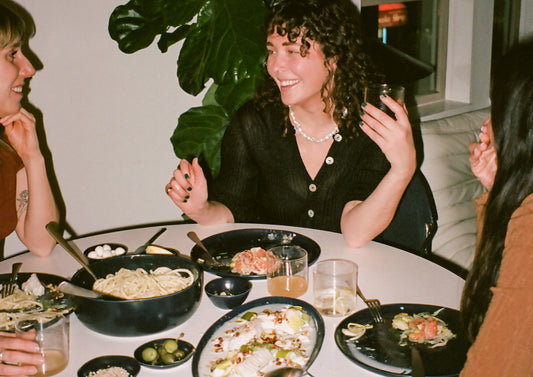 Fiona Morrison is the owner of Vancouver-based jewelry line Wolf Circus. When she's not managing her team of 28 or designing upcoming collections with her design team, you'll find her hitting the mountains and ocean with her boards, or gathering friends around spaghetti al limone at the dining table in her carefully curated Vancouver apartment.

We invited Fiona to host a dinner with friends with the new Oval Serving Platter and Little Bowls. On the menu: a beautiful lemon pasta, halibut and leeks poached in cream, a citrus and fennel salad, and an apple cake for dessert.
| | | |
| --- | --- | --- |
| | | "My dear friend Mila is an amazing cook, so she made the pasta and the salad. I took care of the rest. That's usually how it goes when I'm throwing dinner parties—everyone will contribute with a dish or a bottle of wine they love. It's a fun way to connect, and I always love learning and sharing new recipes after." |
"For me, love is really about spending quality time with all the incredible people in my life and sharing experiences doing the things we love. Finding time to do the activities big or small which make you feel the happiest is always important, and sharing that with friends is the best!"
| | | |
| --- | --- | --- |
| "I'm so lucky that my friends love food and cooking as much as I do, so bringing people together and sharing that abundance feels like the sweetest expression of love. It's so special to be able to open my home to my friends and family and connect in a way that is far more intimate than going out. Plus, we can be as loud or fun or emotional as we want and really just be ourselves!" | | |
Fiona's Pick
| | | |
| --- | --- | --- |
| | | "The Little Bowls are incredible for cooking and serving with. I love pre-mixing spices and other ingredients together and then having them available to slowly throw in dishes while I'm cooking. They also make perfect olive dishes—my favourite appetizer!" |
Shop the Serveware Collection.

* Interview has been lightly condensed.