Thanksgiving Hosting Tips & Tricks
By Joe Parenteau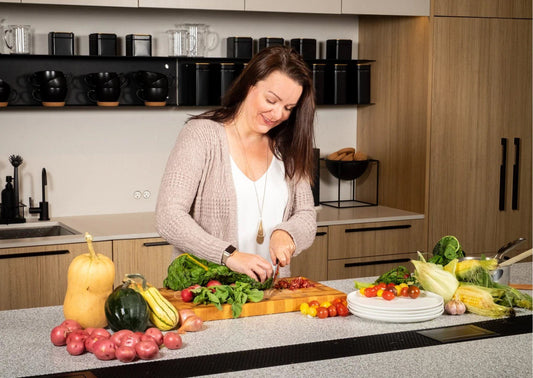 Thanksgiving is truly the ultimate hosting test. From cleaning your house to cooking a ten-pound turkey, it's no small feat. Let's face it, it can be overwhelming.
Becky Troelstra, a Vancouver chef turned tech entrepreneur, is here to share some of her time tested tips and tricks to keep you sane this Thanksgiving. We're firm believers that Thanksgiving should be spent with loved ones, not chained to the kitchen.
Tell us how you stay out of the kitchen when guests start to arrive.
"Every chef is going to tell you it's all in the planning. The mistake we make often is wanting to cook all of the dishes. Is it more important to have twelve dishes and be stressed or nine dishes and be able to hang out with everyone?
We also want to do something new and exciting, but it is important to use your staple dishes. I like to try one or two new dishes each year and leave the others as my staples that I can whip together quickly.
The place it then falls apart is by having it all prepared at the same time."
What do you do for planning? How do you ensure you are prepared?
"Nowadays I have gotten quite used to it. But I used to spend about six hours the day before to get things ready.
I find it helpful to write it out on a timeline and understanding when everything needs to take place. We don't often consider how much oven, stovetop, fridge space we have.


I plan out each dish I will cook but more importantly, I plan out what space it will take. What needs to be in the fridge, how long do the potatoes take to cook on the stovetop, these are all important questions to avoid running out of space in a time crunch.
It's not only about planing each dish and how you cook it, but planning where you will put them on the day of."
What do you recommend preparing beforehand and what do you save for when guests arrive?
"I think about how far you can take each dish before it is complete and leave nothing but the final steps for when your guests arrive.
I am known for my deboned turkey filled with cranberry stuffing. I do this in advance which may take longer to prep, but I know it also takes half the time to cook and carve. For pan-fried Brussel sprouts - parboil them beforehand. I do the delicate, greens, very last minute. But I will ensure all garnishes, toppings, are prepared and ready beforehand.
One thing a lot of people do not know is the turkey should rest for 15-45 minutes. This is perfect timing to wrap up everything.
Think about how you can get each dish 10-15 minutes away from completion before your guests even arrive."
If you have guests that may not know each other that well, how do you get them mingling?
"One thing we do is a brief introduction and making sure there is an appetizer we can congregate around or a signature cocktail we can all talk about. These are my go-to conversation starters.
I think it is important as the host to not only provide the food but to encourage social interaction. Try recruiting your socialites in the group and have them keep the conversation going."
What elements do you find important when setting a table?
"I am all for decor but we often over clutter the table with pinecones and pumpkins and don't leave enough room for the food and the plates. I always prioritize making sure there is enough room for the food. Especially if you have beautiful dinnerware and serving platters you don't need the fancy decor. The food is decoration."