Useful Kitchen Items
By Fable Staff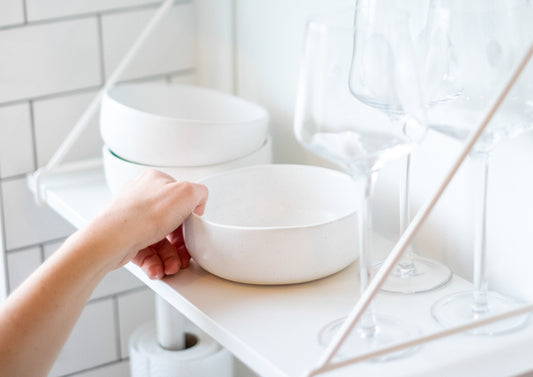 We've all dreamt of having one of those one-of-a-kind, picture-perfect kitchens. Whether it's on Instagram or in our favorite magazine, nothing beats a beautifully staged kitchen. Achieving that kitchen all comes down to what items make up the kitchen.
There are some basic kitchen items to keep an eye out for and purchase when the time is right. No matter when this might be, your kitchen will thank you, and your inner interior designer will as well. Not to mention how excited all of your guests will be to spend an evening in your aesthetically pleasing kitchen that will always make them feel welcome and at home.
The Perfect Plates
We're sure you have some sort of plates sitting in your kitchen right now (otherwise what are you eating off of?). Your plates definitely get the job done, but are they living up to the HGTV-worthy showroom in your head?
Quality Dinner Plates and Salad Plates are extremely important kitchen items. They are the vessel for delivering your best meals that can also create the best memories. Sometimes you want your plates to sit quietly in the background so that your food can be the main attraction; and at other times, you want the plates to really elevate your meal. No matter what, Dinner and Salad Plates that match well truly make for memorable dining experiences.
We would highly recommend matching your Salad Plates and Dinner Plates as they make for the ultimate dinner party (or one-person Netflix party). These matching plates are perfect not even when you have guests but also when you want to enjoy a meal by yourself or with a loved one.
Bring on the Bowls
Bowls for all meals and snacks you enjoy throughout the day are another way to step up your kitchen game. For your breakfast, reach for a timelessly elegant Cereal Bowl for your morning cereal, oatmeal, or yogurt parfait.
Your favorite pasta recipe deserves your favorite Pasta Bowls. Keep an eye out for an amazing pasta bowl that will take your Italian night to the next level. Pasta Bowls are an excellent way to kick your dish up a notch rather than serving the food on a plate or in a bowl too large or too small.
To stage all of the ingredients you use when you make your favorite cookies, we recommend using a bowl that's good for everything—the aptly named Everything Bowl. These are a perfect way to keep your small ingredients prepped and organized as you preheat the oven and get your baking sheet ready.
Serving Gadgets
Any great kitchen is going to be well-stocked with the tools that you need for serving. These items are sure to make you feel out of this world when enjoying time in your kitchen. Serving items are pretty tools that can sit out on your countertop, or hang on a magnetic strip to bring together your kitchen's atmosphere.
Serving Sets are perfect for entertaining a larger group of people for whom you may need to bring the dishes out to the table. Your old utensils can stay in the kitchen, while these serving statement pieces will really bring together your dinner table.
Serving Dishes
Serving dishes are a great way to impress your guests and, therefore, great items to keep an eye out for the next time you are at a home store. A beautiful and large Serving Bowl is definitely something to look for, and the perfect serving bowl will make all of your guests feel welcome in your home. It should be large enough to serve a hearty salad, or even a side dish, to your meal.
Another great kitchen item to keep an eye out for is a Serving Platter. It's a great way to bring food to the table elegantly and practically. The right serving platter can also double as a charcuterie board or serve your favorite appetizers to your guests. Now that's what we call a triple threat.
Serving Utensils
Serving utensils are another kitchen item to keep an eye out for as a way to elevate your kitchen's overall feel. For example, Serving Spoons make serving a shared dish extremely easy and super enjoyable. By having classic serving utensils on hand in your kitchen, you will never need to worry about planning how you will serve your guests.
A good strategic move is to even have some additional serving utensils on hand so that when you are having a potluck with your friends, there are ways to make sure everyone gets a serving of everything they want. Say hello to drama-free dinners.
Cups and Mugs
Try and keep your eye out for different types of cups and mugs. Having a polished set of matching cups is a great way to bring your kitchen to the next level.
Cold Drinks
Nothing is more refreshing than a cold glass of water on a hot afternoon. Keep an eye out for great casual drinking glasses. Look for larger glasses so you can really quench your thirst.
Hot Drinks
Mugs are an absolute must-have item in any kitchen, and a nice big mug for your morning cup of coffee is one of our top priorities. Whether you're enjoying your morning coffee, or grabbing a quick cup of soup for lunch, the right mug makes all the difference.
Spatulas
When it comes to cooking, a spatula is an absolute necessity. There are actually three different kinds of spatulas, all of which are really helpful to have on hand.
There are spatulas used to stir your pancake batter on a Sunday morning when you are making brunch. These typically have a wooden handle and a rubber or silicone tip. You'll also need the kind of spatula you use to flip your pancakes or saute in a hot pan. The third kind of spatula is long, thin, and metal. If you do a lot of baking, this will be useful to have on hand, as you can loosen cake from the side of a dish, or remove brownies from the pan with it.
Air Fryers
If you're looking to expand a little bit into the world of kitchen gadgets, an air fryer is a great option. Air fryers make your life so much easier when trying to make restaurant-style food at home. They've been taking the culinary world by storm, especially for those health-conscious people who still love french fries.
Air fryers are incredibly versatile and can be used for countless recipes and foods, and you're not just limited to bar snacks. You can put practically anything in an air fryer, and it will turn out perfectly; you have tons of room for experimentation.
Thermometers
When it comes to niche kitchen items that you probably have never realized you needed, an oven-safe thermometer tops the list. This item makes cooking meat in the oven much easier as it alerts you as to when the food is done to your liking (and won't give you food poisoning).
Thermometers can also be used when you are using your grill—summer barbecues, anyone? One of these thermometers is useful for everyone, whether you're a professional chef or you're just learning how to cook.
Flatware
Keep an eye out for a Flatware Set that really grabs your attention. It is a way to really go the extra mile for not only the daily events that go on in your kitchen, but for future event planning too.
It's also probably in your best interest to have more than one flatware set so that when you are entertaining a larger group of people, you are not struggling to find extra forks for your guests.
There is lots of room to have some fun when it comes to your flatware. Keeping an eye out for a more formal set is also a great idea. Try something new, like Matte Gold, or keep it classic with a Polished Silver set. Both casual and formal sets on hand? You're ready for anything.
Mixers
When you really start getting into cooking, you'll likely realize just how many kinds of mixing apparatuses there are out there. Food processors always lend a helping hand and open the door to many new recipe ideas that are still quick and easy. On the other hand, blenders can help you pack in all of your nutrients into an afternoon smoothie.
You might also consider getting a stand mixer or a hand mixer. These two are similar in nature, so you may not need both. Hand mixers are great as a beginner-step item–you can use them to mix batters, make whipped cream, and even blend mashed potatoes.
A stand mixer, on the other hand, gives you many more options and frees up your hands for other tasks. Along with all the mixing capabilities of a hand mixer, you can purchase attachments that allow you to make pasta, knead dough, and so much more. It all depends on what kind of tasks you'll be doing in the kitchen.
Multi-Functional Rice Cookers
A great addition to your kitchen item collection is a multi-functional rice cooker. This item is great as it ensures that you do not burn your rice and destroy your pot in the process. They are also invariably practical when used for rice, quinoa, couscous, and other grains.
Knives
The final category of items that we recommend you keep an eye out for are specific types of knives. Any chef worth their salt knows that your cooking game really comes down to the quality of the knives you're using.
The three most basic kinds of knives that you should really have are a paring knife, for chopping, slicing, and dicing small items; a serrated knife for cutting bread and meat; and a chef's knife for… well, just about everything. As you level up your cooking skills, you may want to invest in some more knives, but these are great for beginners.
It's also worth keeping in mind that you need to keep your knives sharp. The risk of cutting yourself with a dull knife is much higher, and sharp knives just work better. Care for those blades and you'll be cooking up a storm in no time.
Stock Your Kitchen With All the Gadgets You Need
With this small list of kitchen items to keep an eye out for, you are ready to fully turn your kitchen into a functional, picture-perfect space that will welcome you and your culinary creativity with open arms.
While these are only a few of the many kitchen items you should keep an eye out for, they sure are a great place to start.
Another final tip is to not rush into things too quickly. When thinking about adding new kitchen items to your home, take the time to think through your purchases. There is nothing worse than purchasing something that you do not love or do not need.
Sources
95 Kitchen Design & Remodeling Ideas | House Beautiful
The Difference Between a Spatula and a Flipper or Turner | Leaf.tv