The Best Home Decor Colors for Summer
By Fable Staff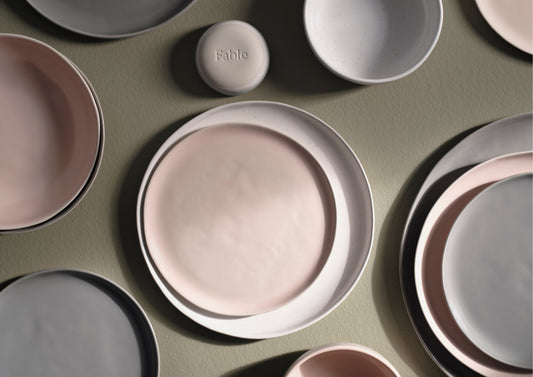 There's something so special about summertime. We all glow in the summer sun, and more days are spent enjoying the sunshine in the form of beach days and barbeques. Plus, the ice cream man comes around every once in a while to bring a cool treat. Luckily, even when you're not outside, you can still be enjoying this glorious season inside.
Changing your home decor to reflect summertime can freshen up your space and bring you out of winter hibernation. So put away the heavy blankets and get out your pool towels—we're bringing the pool party into the house. 
Switch up your deep rich decor colors from autumn and winter for ones that suit the season—and it doesn't all have to be hot pink and orange, if that's not your design aesthetic. Fortunately, there are many other ways to brighten up your home and welcome in the new time of year. 
At Fable, our simple colors are perfect for summer. If you want to make the most of the warm season, keep reading for design tips and tricks that will brighten up your space and make you feel like you're at the pool all the time. 
Minimalist Design
While you probably don't need a total home makeover, there may be ways for you to make your space feel fresher and lighter, all without going overboard.
When you think of minimalist design, you may think of a bare space lacking warmth, but this design concept is more than just white open spaces. Minimalism plays with light, natural colors, and alters the focus and functionality of a room to create a sleek, simple design that still feels natural and homey. 
To achieve a minimalistic design, think about how you can bring new life to your space. Maybe it's bringing in lightly colored airy fabrics rather than heavily patterned drapes, or decluttering a bookshelf to give it a more simple feel. 
You can also rearrange furniture for a more open floor plan. Maybe this means getting rid of a piece or two, but you can always sell them and put that money towards new throw pillows and blankets if yours are more suited for winter. Each piece of furniture should serve a clear function, and while you can still have a lot of seating, it should never feel cluttered or claustrophobic. 
Summertime brings an easy, breezy, effortless feeling, and the 'less is more' mantra of minimalist design reflects this. Create clean lines and a relaxing, serene environment free of knickknacks and full of style. While all these design tips are great, let's get into the best colors to incorporate into your home for a light, airy feeling that just screams summer—after all, that's what you're here for. 
The Best Neutral Colors for Summer
Summertime home decor doesn't have to mean pops of bright colors, especially if you're going for a more minimalist feel. 
Ideally, you want colors that lend themselves to any season of the year, and neutral colors are always in style. At Fable, we know just how impactful the right shade can be, which is why we offer our dinnerware in five gorgeous shades that toe the line between neutral and colorful. These colors, when paired with the right accompaniments, are all perfect for the summer season.
Speckled White
This classic color keeps things fresh and airy. It goes with anything, whether it's another color or pattern, seamlessly. White also reflects light so that you can take full advantage of those long summer days by brightening up your home. 
Blush Pink
Summer is a perfect time to introduce pastels into your home decor. They add a touch of color without being too bold, and they're a perfect complement to the sun-drenched hues of the season. Blush pink resembles the mysterious shades that are often seen inside seashells—it's nearly neutral, with just a touch of spice, and it can bring joy to any space with its soothing effect. 
Dove Gray
A perfect neutral is dove gray. Since it's on the lighter end of the gray spectrum, it delivers just the right amount of cool, silvery gray there without being too dark. Dove gray also compliments both light and dark colors, and works well to tie a space together. 
Midnight Blue
While this is a darker shade, it adds a great pop of color to accent pieces like pillows, a vase, a lampshade, or the dinnerware place settings on your table. Blue is a very summer-friendly color since it's a relaxing hue that doesn't feel too abrasive, and it pairs beautifully with classic summer shades like coral.  
At Fable, we carefully selected  these colors to allow for our stoneware to be mixed and matched to fit into each season.  Our colors work great with summertime decor, and still fit in when the seasons change.
Bringing Nature Inside
If you love the look of your soft, neutral dinnerware but are still craving bright colors, a great solution is to bring nature inside. Natural elements can provide vibrant color while still feeling tranquil and effortless—plus, who doesn't love the smell of fresh flowers? 
Fruits and Veggies Can Double as Décor
You can easily add a pop of color without purchasing a permanent piece. The beautiful weather brings fresh summer fruits and vegetables, which are fantastic both for cooking and as decorative elements. Grab a large bowl or platel, like the Serving Bowl or Serving Platter, and place fresh yellow lemons or bright red apples inside to bring a pop of color to a side table, credenza, or dining room table top. You can also create a centerpiece with a bowl of summer squash—mix and match the greens and yellows and pull in different varieties like pattypan squash for extra visual interest. 
Seasonal Flowers Are Never Out of Place
Another great way to add color is to spread fresh flowers throughout your home. They add color and can bring happiness to any room—and you can buy yourself flowers just as easily as you can receive them as a gift. Since flowers come in many different shapes and sizes, pick ones that will complement the space they're going in. 
Place larger blooms with taller stems, like Shasta daisies or sunflowers, on an entry table to welcome whoever is coming into your home. The dining room table is the perfect place for a wildflower arrangement, and you can fill a small vase with lavender flowers and place it on your nightstand. Not only will lavender not overwhelm the space, but the smell also promotes sleep. 
Get Your Green Thumb Ready
If you prefer live plants to cut flowers, they're a great option as well. Find a plant or a few plants that can add greenery but aren't too overwhelming in the space. Incorporating living decor can do wonders for a room, and plants can even benefit your health. 
Here are a few ways indoor plants help: 
Improve Air Quality: Plants naturally clean the air by removing contaminants. One study revealed that the leaves, soil, and roots could reduce high levels of indoor pollutants. The study found that, over time, plant roots destroyed pathogenic viruses, bacteria, and organic chemicals, and turned them into new plant tissue. 
If you want houseplants that help to purify the air in your home, these are a few plants shown to be best for the job:
Bamboo

Dwarf Date Palm

Ficus

Rubber plant

Boston fern

Peace lily

Areca palm

Lady palm

Dracaena
Reduce Stress: One study showed that houseplants may reduce psychological and physiological stress. Results suggested that active interaction with indoor plants lowered stress by suppressing the sympathetic nervous system activity and diastolic blood pressure. This means that people were left feeling soothed and relaxed after working with indoor plants. Plus, it's just nice to have something to care for—it reminds you to care for yourself! 
Higher Productivity Levels: If you work from home, this one is for you. Research shows that plants can help with productivity levels. In multiple studies, participants with plants in their workspace were more productive and creative.  
Are you ready for a houseplant yet? They add pops of summer color, clean your air, and lower your stress levels. 
Bring in Natural Light
Let the sunshine in! It is summer, after all—and not taking advantage of the natural light just seems wrong. 
While one solution is to install large windows to let the light in, this is much easier said than done, and not to mention expensive. Luckily, you can maximize the light in any room in many different ways. 
Work with Your Windows
One way to maximize natural light is to add lightly colored sheer curtains to your windows to allow more sunlight to stream in. Just make sure your windows are clean. 
If you're still not getting enough light through your window, especially if you have a large tree, shrubs, or vines covering your window, consider pruning them. You can even bring in a landscaping professional to consult with about maximizing light exposure. 
Grab Some Paint
There are other things you can do outside to brighten up your inside. If your home has overhangs painted in a dark color, consider switching it to a lighter shade or even paint with a metallic finish to reflect the light into the windows. 
Utilize Mirrors and Reflection
Another tip is to place a large mirror in the room. Since mirrors reflect light, they're a big help when it comes to brightening up a space. You can strategically place them on the dark side of a room, or even in a hallway to brighten it up.  
Much in the same way that mirrors bring in light, consider repainting a dark room using paint with a high gloss level. The more gloss, the higher the light reflectance, and the brighter the room will be.  
If you have dark floors, cover them with a speckled white or a dove gray area rug to brighten it up. Darker colors absorb light, which is another reason to use neutral colors in your home. 
Have a Summer Home All Year Round 
When you design your home with minimalist design and neutral colors, your space will be fit for any season. 
Even in the dead of winter, your home will still feel bright and inviting—and when it's finally summer, it will feel even better. If you have darker decor, switch some of it out for lighter shades like Speckled White, Blush Pink, and Dove Gray. These colors work all year round and are ideal for summer. 
At Fable, we design durable dinnerware that fits into any home's decor aesthetic. Our company strives to make our products ethically and sustainably, all while giving back to those in need. We hope you serve your summer dishes and meals with our dishes year round, for many years to come. 
Sources: 
Lavender and the Nervous System | NCBI
Planting Healthier Indoor Air | NCBI
Effects of an indoor plant on creative task performance and mood | NCBI