What Makes Our Dinnerware Premium?
By Fable Staff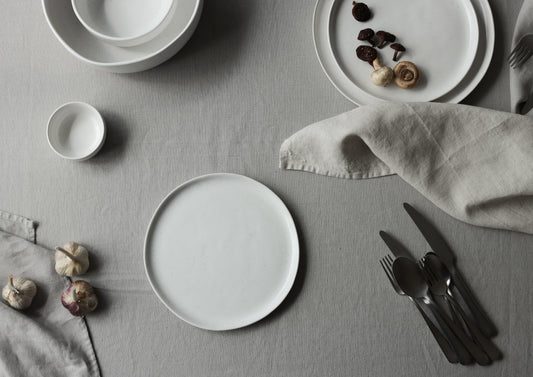 Whether you're searching for new dinnerware for everyday use or special occasions, Fable can be the perfect backdrop to any meal.
We value blissful moments shared with good people over delicious food, and Fable aims to help you create more of these memories through premium tableware. But what makes our dinnerware so high quality?
At Fable, we believe that the details matter, so we're going to go into detail about why our dinnerware stands out from the rest, and how we craft ethically and sustainably.
At Fable, we hope you welcome our products into your home and that you feel great about your decision years later.
Where It Comes From
As a Canadian company, our dinnerware is designed in Vancouver but thoughtfully made by Portuguese ceramicists in central Portugal (same with our flatware, if you're wondering)
Portugal is known for its ceramics because of the abundance of quality clay you can find in the country. Since the Portuguese have been making ceramics for centuries, they have top-quality craftspeople today. We searched for the best possible partners, and we found them in the Tagus Valley.
Our products are made using a balance of machinery and hand-finished craftsmanship. We use locally sourced recycled ceramics, and clay from just a few miles up the road, to create a product you can feel good about using every single day.
We Design Responsibly
At Fable, we intentionally design our dinnerware to transcend passing trends. The simple aesthetic of our products can fit in with the atmosphere of your home today, and a decade from now. Also, our collections are all made with colors and styles that complement each other.
The creation process of our stoneware is simple. Once we mix the locally sourced clay, we place it in a press for shaping and trimming. After it dries, we appraise it for quality assurance. Each piece is then sanded down and glazed; the hand-finished aspect of our pieces makes them uniquely one-of-a-kind. Our pieces are organically shaped, and we leave the bottoms unglazed as a signature design detail. The glaze we use is free of lead and other heavy metals. Finally, we fire it in a kiln, then cool it down before carefully boxing it. Then it's ready for its voyage across the Atlantic Ocean.
We create durable items that will last for years physically and aesthetically. The firing process makes it strong, and it can withstand temperatures up to 450°F. If you take care of our pieces, you can use them to accompany fantastic food for years to come. All of our dinnerware is dishwasher and microwave safe. When you receive your dinnerware, we recommend hand washing it with warm soapy water before use.
The bottom of our ceramics is intentionally left unglazed, and we hope you like this design element as much as we do. However, it does mean that it is susceptible to staining, but if you remove the stains quickly by cleaning them thoroughly with the Tawashi Brush, it will ensure the marks don't last.
We Craft Sustainably
At Fable, we aim to craft our products as sustainably as possible.
Our ceramics are made from clay near the manufacturer. Plus, all the water used in the production process is recycled on-site, creating zero water waste. At Fable, we are working towards becoming a completely zero-waste company, and are constantly look for innovative ways to improve our process. We strive to prevent unnecessary waste and are willing to make design changes to minimize any negative impact on the environment.
Fable works alongside our suppliers to stay as environmentally responsible as possible. We maintain a level of transparency and traceability at all levels of our supply chain to stay accountable.
Fable requests that all of our vendors assist us in measuring, reducing, and offsetting our carbon footprint. We are focused on reducing our greenhouse gas emissions caused by shipping products from our suppliers in Portugal to our distribution center.
We also aren't trying to add more trash to any landfills, so it was a no-brainer for us to ensure all of our packaging is 100% recyclable and plastic-free. Many other dinnerware companies cannot say the same, as ceramics are very delicate to ship, but we researched and tested numerous packing solutions before landing on what we use today.
The dyes on our boxes are non-petroleum, and we only use paper that comes from FSC-certified forests. Since paper is one of the most easily recycled materials in North America, we chose to package all Fable products in it. To recycle our packaging, you just have to flatten the boxes your pieces come in and place them with your other recyclable products. The material protecting your pieces inside the boxes is sustainable bio-film made from potato starch and maize starch. It is fully home compostable and 100% biodegradable. Our packing peanuts are also made of starch and will break down as well.
How We Give Back to the Community
At Fable, not only do we make premium products ethically and sustainably, but we also recognize that not everyone can put food on the table. We want to balance profit and purpose, so we donate a meal for every set of dinnerware purchased.
We partnered with Mealshare before we even sold a single plate. Mealshare is an inclusive organization that partners with credible charities that give assistance and food to those in need. The program gives half of its donations to local community partners and sends the other half to Save The Children, which benefits people around the world. Mealshare's philosophy aligns with our goals, and we couldn't be happier to be partnered with such an amazing organization.
As a result of this initiative, we donated over 20,000 meals to youth in need, thanks to our customers' purchases in 2020. We hope to provide even more meals in 2021, so we can bring joy with every meal. We know that so many people do not have proper access to food, causing a global issue. One in six children in Canada under the age of 18 struggle with food insecurity.
Quality Stoneware
We hope you have a better understanding of the premium dinnerware that Fable offers and the mission our company stands by.
We craft our stoneware ethically and sustainably and work with our suppliers to maintain these standards. We also constantly look for new ways to create zero waste and take care of our environment.
At Fable, we strive to offer the best possible product so it can be a staple in your home for many years to come.
Sources:
Good food is just the beginning - The Issues | CFC Canada