Birthday Dinners are Special Events
By Fable Staff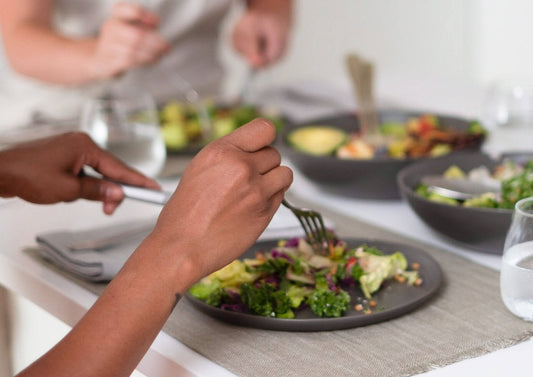 When it comes to presenting a homemade birthday dinner, we all want to make it memorable. Your loved one might claim that they just want some quality time, but you want to go above and beyond for their special day. Whether it is a big birthday, like 50, or one that feels a bit random, like turning 23, one thing that does not change is the youthful excitement that accompanies the big day.
You always have the option of making a birthday breakfast in bed for that special someone or taking your mom out for lunch, but nothing says birthday like surprising your person with an out-of-this-world dinner. Show them just how much you care with a thoughtful home-cooked meal and decadent dessert.
We know how deserving those important people in your life are, so we want to help you make this the best birthday they've had in years (or ever!). Join us in making the years count, rather than counting the years.
Choosing Decorations
Decorating for a birthday dinner is always a blast. If you're serving a specific style of food, like Greek or Mexican, plan the decor around that for a cohesive look. If themed parties or celebrations are not up your alley, choose a simple color palette to center your decorations around—maybe even the birthday person's favorite color.
When it comes to decor, balloons, streamers, and party hats for your guests are classic options. If you're trying to be a bit more subtle, a classy personalized banner and some hanging lanterns or strategically placed candles will do the trick. Whatever you choose, we're sure the guest of honor will be thrilled by your thoughtfulness.
Choose a cloth tablecloth and coordinating placemats to add an entirely new dimension to a dinner table, and take care in setting the table just right.
To really make it clear that this is a special occasion, choose cloth napkins and try out a new method of folding them. While this may take an extra five minutes, your loved one is bound to notice your hard work and efforts, and the dinner table just might look classier than it ever has before. If you want to create a restaurant-like atmosphere, make up a mock menu and tuck it into the folded napkin.
Candles and flowers make for great centerpieces that will completely elevate your homemade birthday dinner. Get creative and try to incorporate different candle heights for some visual variety, and incorporate different kinds of candle holders for that charming mismatched look. Accompany those candles with a beautiful bouquet. If you are up for the challenge, you can also go to your local flower shop and buy flowers to create your own bouquet.
Whatever decorations you choose to use, make sure that they pair well with your homemade dinner—or else they may just steal the show.
Dinner: The Best Way to Serve It
What you choose to serve at dinner should be something special to the birthday person. It is their special day, after all, so it's important not to lose sight of that. Maybe it's their favorite food, or maybe it is their tradition to eat the same birthday dinner every year. Either way, remember that you're planning this dinner for them, not for you (although you're definitely going to enjoy, too).
It all starts with selecting what you will be serving at dinner. If you're going to be using fruits or veggies, try to pick something in-season as not only will it taste better, but it will feel just right for the mood.
Which foods are in-season completely depend on where you are located in the world. While strawberries may be in season from April to June in California, giving you the perfect opportunity to make strawberry shortcakes for dessert, they are not in season until mid-June in Washington. Do your research and look into what's in season, and then use that as a basis for creating your menu. That way, you're guaranteed to have fresh, beautiful food.
The Sides Can Steal the Show
Whatever protein you choose to serve at dinner, you will, of course, be accompanying it with a side dish. While those roasted veggies can sit next to the protein on your Dinner Plate, a crisp, chilled salad should not. Consider presenting your salad in a Serving Bowl, perhaps accompanied by a pair of statement Serving Spoons. This will really boost your presentation game and leave the special birthday person feeling loved.
You can also provide your guests with Salad Plates so they don't have to worry about the salad dressing mingling with the rest of the meal. Rather than piling your salad onto your dinner plate, you can serve your salad as a separate course—on Salad Plates that match your other dinnerware—which can really increase the fancy factor of the meal.
The best part? These Dinner Plates, Serving Bowls, and Salad Plates allow for easy clean-up, because they're dishwasher safe and have a low, flat rim that allows for easy stacking. That means you don't have to worry about accidents with the dishes, and you can spend more quality time with the person you are celebrating.
Carb It Up with Pasta
Maybe you are making a homemade birthday dinner because your favorite Italian restaurant was fully booked, or because you're still committed to social distancing. Or maybe the birthday-goer just loves pasta—who doesn't?
If you're getting your marinara on, we recommend serving your meal in these Pasta Bowls. These organically shaped, one-of-a-kind bowls are made (and hand-finished) in Portugal, and the slightly lower, flatter shape means that it's perfect for presenting a heaping bowl of pasta, whether you're serving handmade lasagna, spaghetti carbonara, or spicy farfalle bolognese.
Birthday Drinks
One of the best ways to make a homemade birthday dinner feel special is to include a signature drink with your meal. Whether you find a complicated recipe online, dive into the world of mocktails, or just pop open a nice bottle of wine, the right beverages can truly take a meal to the next level.
If you're having a few friends over to celebrate a birthday, we encourage you to offer alcoholic and non-alcoholic drinks (more on that later). You never know what your guests are going to be in the mood for—or who has to drive home—so the perfect host will always have options on hand.
Let's Do a Toast
Sip, sip, hooray! A fun, celebratory alcoholic beverage is a glass of champagne or prosecco. Always perfect for celebrating and sharing, you cannot go wrong with a glass of bubbly. Even if you don't spring for a bottle that's actually from the Champagne region, your guests and the birthday person are sure to enjoy your touching toast to them right before dinner (plus, unless they're super into wine, they probably won't even know the difference).
If you're looking for an easy, low maintenance option to serve with dinner, look no further than wine. You can pair your wine specifically to your meal, and if you ask at any liquor store, they should be able to help you find the perfect match. Just make sure that you're presenting it to your guests in the correct glass. White and reds are meant to be served in different kinds of glasses, and even certain varieties have specific glasses.
If you want to get your inner mixologist on, you have tons of options there, too. Some fan favorite cocktails are Moscow Mules, Mojitos, Whiskey Sours, Old Fashioneds, and many more. Choose the birthday person's favorite base liquor, and go wild!
Non-Alcoholic Beverages & Mocktails
Many cocktails can be made without alcohol, and some recipes are even specifically designed to be mocktails, rather than cocktails. Explore ingredients like flavored simple syrups, herbs, and various juices to really create a unique beverage that doesn't include alcohol.
You should also have non-alcoholic basics on hand, like sparkling water, tonic water, lemonade, or soda. Pairing any of these with a wedge of lemon or lime is a refreshing and classy way to sip on something non-alcoholic.
Bring on the Dessert
Presenting dessert, which is debatably the best part of a birthday, should be taken seriously. It needs to not only taste great, but look great as well.
Birthday Cake
Chocolate, vanilla, marble, carrot—the types of birthday cake out there are endless, and that's not even considering the various flavors of icing that you can use. No matter what you choose, your birthday cake deserves a beautiful presentation.
One of the most simple yet elegant ways to display your gorgeous birthday cake is to present it on a cake stand. If you're lucky, the cake stand might even come with a glass dome that not only makes the dessert that much more visually appealing but also preserves your cake so that you can happily eat it for breakfast the next morning too. If you don't have a cake stand, a Serving Platter will do the job will do the job elegantly, too. Add garnishes like fresh fruit or drizzled icing around the edges if you're feeling extra creative.
Of course, when you're having a birthday celebration, you can't forget the candles. Whether you're keeping it simple with a few sleek candles or you're pulling out all the stops with individual sparklers, nothing says birthday quite like the guest of honor blowing out their candles before you serve the cake.
Cupcakes, Brownies, and Cookies
If you're going the individual serving route with cupcakes, cookies, or brownies, definitely present these sweet treats to your guests on a Serving Platter. If you have more than a handful of people over, we recommend using a few of these to make sure there is room for all of that dessert.
Add a Healthy Twist with Fruit Salad
While you may be serving your fruit salad in a large bowl, your guests are going to need something to put their fruit in. If you're looking for individual bowls, the Everything Bowls are perfect for a few sweet bites—not too big and not too small. You'll be able to have your fruit while still saving room for birthday cake. If your guests want bigger portions, perhaps laced with copious amounts of whipped cream of melted chocolate, the Pasta Bowls are great at working double-duty as dessert bowls.
Host a Birthday Celebration to Remember
Taking your loved one to their favorite restaurant to celebrate their birthday is nice, but if you want to add an extra personal touch this year, make them a birthday dinner instead. Putting the time and effort into making dinner is a great way to show them how much you care.
Staying at home to celebrate can be just as special as a night out, if not more so, and you'll create long-lasting memories at this intimate occasion. Just make sure that you're accompanying all that delicious food with the right dinnerware—it's got to look good and taste good.
Sources
How to Set a Table: Basic, Casual and Formal Table Settings | Real Simple
11 Best Napkin Folding Ideas—How to Fold Fancy Napkins Videos | Good Housekeeping
Choose The Best Wine Glasses For Your Taste | Wine Folly
18 Classic Cocktails You Should Know From the Mojito to the Martini | Food 52