What Makes Good Dinner Plate Sets
By Fable Staff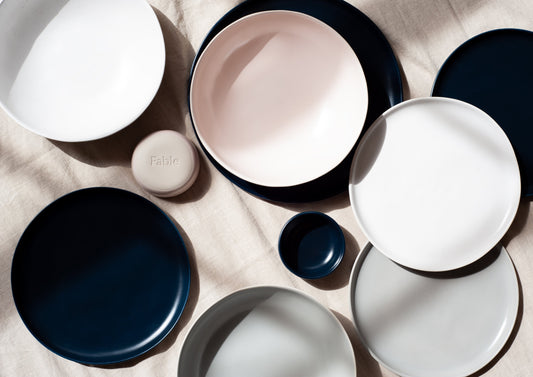 As we progress through life, many of us come to appreciate how aesthetically pleasing a beautifully set dinner table can be. When set properly, it provides a welcoming environment for guests and hosts alike, no matter what the occasion. There is nothing better than a dinner table that feels welcoming—other than the dinner itself.
As trends come and go, it is simple, elegant dinnerware that will continue to be appreciated for a lifetime. Unpretentious, classic dinner plates are perfect for casual occasions, fancy gatherings, and Instagrammable moments, and you can spice them up with other decor or the food that sits upon them. The right plates can also sit quietly in the background and allow for the meal to be the main event. They'll even be able to prop perfectly on your lap in front of the TV while you binge-watch Netflix, or enjoy a movie night with that special someone.
Finding the right dinner plate sets for every occasion can seem daunting, much like the rest of adulthood. We all have a lot on our plate (literally), not to mention many questions about picking the perfect dinnerware set. What exactly do you need for your day-to-day dinner plates? How many do you need? Should you have a separate set for special occasions? What is the average dinner plate size?
There are countless options out there for dinner plate sets, making selecting the right set a less daunting task than you may have thought initially. Let's keep things simple and find the right dinner plates together.
Plates for a Casual Family Dinner
A great place to start is by finding suitable dinner plates for daily casual family dinners. By finding the perfect plates for your everyday life, you can set a strong foundation for future occasions.
While your mind may automatically jump to a set of white dinner plates the moment you envision a set table, we're here to propose something with a little more oomph for your day-to-day dinners. These simply elegant Midnight Blue Dinner Plates are 10 ¾ inches in diameter and ¾ inches in height, and the gorgeous deep blue, almost black color is extremely eye-catching. We recommend these plates for all things casual: think dinner with family, on your own on the couch, or even in your bed after a long day (just make sure that you clean up the crumbs).
If you're interested in matching all of your dishes, our Dinnerware Set also comes in this understated Midnight Blue color. While it's a stark contrast from standard white plates, Midnight Blue is timeless and will leave a lasting impact on you tabletop. What's also fantastic about having darker-colored plates is that they encourage a balanced meal. With a dark plate, subconsciously, people are interested in counteracting the darker blue color and end up putting brighter colored foods on their plate.
People often fail to recognize that the plates you use for a casual family dinner can be great for other occasions too. These dark-colored plates work perfectly for your day-to-day, but they also make the perfect blank canvas for fancier events.
Plates for the Holidays
When it comes to holidays, finding the right dinner plate set is key to hosting a great meal where memories can be made. We recommend a dining bundle or dinnerware set for holidays so that everything coordinates, rather than just picking and choosing from the mismatched plates in your cupboard that you've collected over the years. Matched dinnerware will make it clear to all of your guests that you put lots of thought and planning into the meal—even if all you did was choose the perfect color.
A dinnerware set is an easy and low maintenance option that still ensures that everything looks perfectly put together. Utilizing a dinnerware set on holidays means that you will have one less thing you need to worry about when it comes to planning and execution. It can also mean that you will be sure to impress your in-laws and all of your guests, and we know how hard that can be.
The Dining Essentials bundle is the perfect go-to set. It allows you to plan your holidays with complete confidence that your dinner table will be picture perfect. Crafted in stoneware, this set of dinner plates will ensure that the evening's primary focus is your special occasion—and all the people you get to share it with.
This all-essential bundle comes with four dinner plates, four salad plates, four pasta bowls, four cereal bowls, four mugs, and a 20-piece flatware set. This means that you have items that all match beautifully for everything that you may be serving at your holiday meal: from a salad or appetizer, to that roast you've been working on all day, to coffee with dessert. But, if you're looking to be just slightly more low-key with your place settings, another great option is the Dinnerware Set.
The Dinnerware Set also comes in sets of four and includes dinner plates, salad plates, pasta bowls, and cereal bowls. You could even have that secret late-night bowl of cereal once all the clean-up is done and your guests have gotten home safely.
Plates for When You Have Guests Over
When you have guests over, the best dinner plate set is our Dinnerware Set in Dove Gray. You could also choose to mix and match a set, which allows you to pair Dove Gray Dinner Plates with Blush Pink Pasta Bowls or Speckled White Salad Plates to add some visual interest. Your guests will be left wondering whether you somehow morphed into Martha Stewart, or if you're really just that good with decor.
This soft Dove Gray color is ideal for casual yet fun nights with friends. After a long day, this calming color brings a sense of comfort we didn't even know we needed. The earthy tones of the Dove Gray plates are also the perfect match for a summer backyard barbecue. Stunning yet straightforward, these plates beautifully complement any stone or wood accents that you may find outside on a patio or a porch. The soft tones will even match your hardwood or tile dining room floors, pulling together a complete experience. Pair this Dove Gray tableware with some sleek drink pitchers and some buffet-style dishes, and you'll be all set for a classy yet casual evening with your pals.
Like the others we have recommended, the items in this set are dishwasher safe, so clean-up will be easy after a long night of entertaining your guests. The set is also microwave and oven safe up to 450ºF, meaning that you can keep food hot while you're entertaining without ever having to worry about transferring dishes.
Many people often mistake microwave safe for oven safe and make a near-impossible mess to clean. Fable's dinnerware sets are a guarantee that this mess won't even happen in the first place—so go ahead and pop that plate in the oven.
Plates for Date Night
Everyone looks forward to date night, no matter the day. Some time alone with your significant other? Yes, please. Once you find the perfect recipe, you have to make sure that your tableware lives up to that delicious food.
There's no better way to have a date night at home than with this Blush Pink Dinnerware Bundle. These soft pink plates will infuse the room with an air of romance, especially if you pair them with a vase of flowers (yes, this is your cue to buy flowers for your significant other) and some lovely wine glasses.
To add some contrast to all these charming pastel tones, consider mixing and matching your Blush Pink dinner plates with Midnight Blue salad plates—you'll bring the drama to the table without having to deal with any actual drama with your partner.
Bring out this Blush Pink dinnerware bundle the next time you're showing off the taco recipe that you've mastered, or you're pulling a fresh-baked pie out of the oven. The Blush Pink is sure to ensure that every meal at home feels just as special, if not more so, than a night on the town.
Plates for Take Out at Home
Some days we just need to enjoy our take-out on a plate rather than out of the box to feel as though we have accomplished something. Plus, who doesn't want to feel fancy when they're plating up some delicious penne alla vodka or sushi, even if you didn't make it yourself?
Our Speckled White plates are organically shaped and one-of-a-kind, making them the perfect background for whatever dish won the takeout argument this time. We believe in tableware with a long lifespan that always keeps up with the trends, and the Speckled White dinner plates do just that.
To really up the ante, skip using the plastic utensils that typically come with your take-out, and opt for our high-quality 18/10 stainless steel Flatware Set instead. Four pieces each of dinner forks, salad forks, large spoons, small spoons, and knives means that you have everything you could ever need. You'll be shocked by how much you can elevate what could've been a simple grab-and-go meal when you pair it with the right table settings.
Taking Care of Your Plates
It's essential that you take care of the dinner plates. In doing so, they become something for you to create memories over in the future. A great way to keep your plates in top shape is with this multipurpose Tawashi Brush. The scrubbing brush is a perfect way to remove any superficial marks from your beautiful dinnerware sets. This durable brush is crafted with palm fibers, which means those bristles are 100% biodegradable—what more could you ask for?
Not only can you use this brush to take care of your plates, but also the food that goes on them—you can use the Tawashi Brush to scrub most root vegetables. Who doesn't love a multipurpose tool in the kitchen?
The Right Plates Will Take Your Next Occasion to the Next Level
No matter what the occasion, we believe in stories worth celebrating—especially over dinner. We want nothing more than to allow you to make memories while enjoying dinner with tableware that you can rely on.
Our dishes will complement your kitchen, whether you prefer farmhouse-chic design or a more sleek, modern minimalist look, and they're sure to bring plenty of compliments to you whenever someone comes over for a visit. Better yet, these are dinner plates that you can trust—not only in terms of longevity, and because they are crafted sustainably , but also because we're transparent about where they came from and who made them.
While finding the right dinner plate sets for every occasion can be daunting, it shouldn't have to be. We know you already have enough on your plate, so let us take some off of it and give you more room to enjoy the small things in life.
Sources
What Is the Standard Size of a Dinner Plate? | Reference
Does Microwave-Safe Mean Oven-Safe? | Hunker